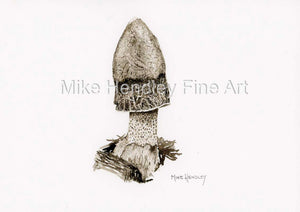 The "Stinkhorn Portrait" is a giclée print of an original piece painted with mushroom ink extracted from shaggy mane inkcap mushrooms found locally in the Ottawa area. The artist personally extracted the ink, filtered and preserved it with a small percentage of locally produced vodka.
This image is printed on 5" by 7" 100% cotton 310 gsm archival quality paper and ink. The paper is absolutely wonderful!
Signed by the artist.

Does not include frame or matte. 

A note that standard delivery is sent via letter mail but does include a tracking number.