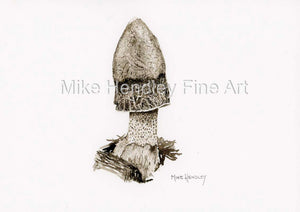 The "Stinkhorn Portrait" is an original piece painted with mushroom ink extracted from shaggy mane inkcap mushrooms found locally in the Ottawa area. The artist personally extracted the ink, filtered and preserved it with a small percentage of locally produced vodka. The piece is 7" by 10" on Arches cold press 300 gsm watercolor paper.
Signed by the artist and includes a certificate of authenticity.

Does not include frame or matte. It is recommended that the piece be placed behind glass and mounted out of direct sunlight to preserve the ink. Lightfastness/fading of the ink is unclear but preliminary test seem to suggest it is equivalent to watercolor.

A note that standard delivery is sent via letter mail and does include a tracking number.