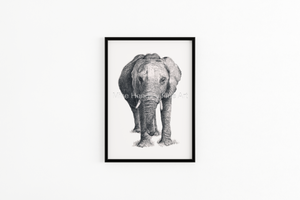 The "I will remember you" open edition print is a giclée print on acid-free paper, PH buffered, 100% cotton rag on 330 gsm weight.
Signed by the artist.
Does not include frame or matte.
A note that standard delivery is sent via letter mail and does include a tracking number. 
Shipping begins August 23rd 2021.
A percentage of the proceeds from this sale will be donated to a trust protecting elephants and their habitats.